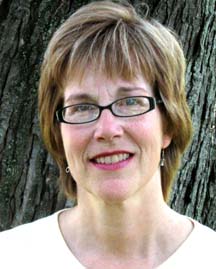 MB Hayes is the inventor of Thangles.
This is Mary's Top Tool!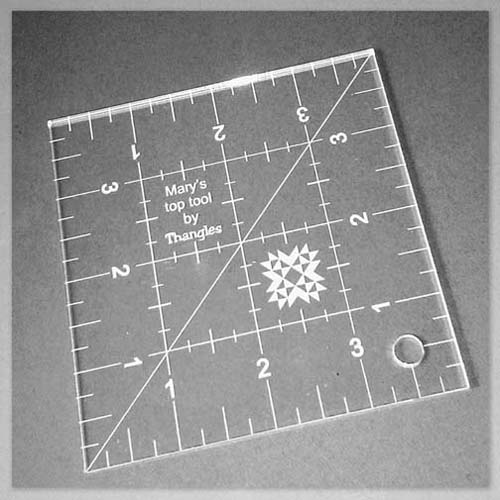 I spend a lot of time cutting fabric. You probably do as well. It is one thing that quilters do often. There is one tool size that I love most, the 4″ acrylic square. I use this size so much that I wear the printing off!
Over the years, I have wished for some improvements for this tool. I never use the 1/8 inch printed marks and I wanted marks that will not wear away.
So I designed a 4″ acrylic square that features only what you need. In addition, the marks are etched so they will never wear away.
This is Mary's Top Tool! Let me tell why I love it so much and why it is so useful.
I love this size because it fits in my hand.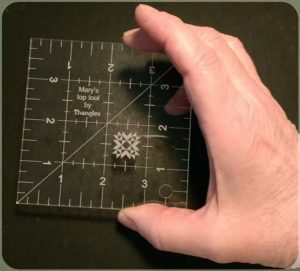 I can control it completely as I do cuts.  With bigger rulers you have to place them on your fabric and then push down to hold them in place.  As we all know, they can and do shift.
THIS NEVER HAPPENS with the 4″ square because you can hold it with your hand.  This is one reason why this is my favorite tool.
I also love the 4″ square because I use it to cut Thangles apart.  When you cut Thangles apart, you want to be accurate.  Holding the tool makes this so much easier and of course, more accurate.  
I use this tool to cross cut squares and smaller rectangles from strips.  If you do much quilting with 2.5″ strips (Don't we all?) you will use this tool constantly. 
I also use this tool to check my sewing.  When I am constructing a block, I like to make sure the units are finishing to the expected size.  This tool is perfect for that task.  
It is an essential tool if you are doing mini quilts.  Mini quilts require an additional degree of accuracy.  Tiny variations multiply fast in a mini quilt.  With this tool, you can measure as you go along.  
I use this tool to finish a binding on a quilt.  This is when you use the diagonal line.
So there you have it.  Many reasons why this is my Top Tool!
This tool is inexpensive, only $4.99  Buy one for yourself and remember it makes a great gift for quilting friends