Thangles Make Block Construction Easy
Thangles simplify block construction because you eliminate calculating and cutting steps.
Let's see how by making a shoofly block. The shoofly block is a mixture of half square triangles and squares.
We are going to make a 6″ finished block. The shoofly is a 3 x 3 unit block. It is made with two colors of fabric and it has a total of 9 pieces. 
You need:
4 half square triangles (HSTs)
1 dark square and
4 light squares
1. Your caculating is easy. All you do is cut a strip that is 1/2″ larger than the finished size. The finished size is 2″. You cut a dark and a light strip that are 2 1/2″ wide.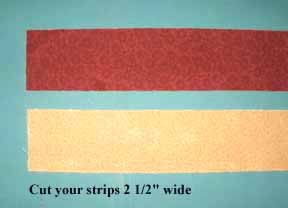 If you make HSTs with the other methods, you need to follow the 7/8″ rule for cutting for the HSTs and then flip back to 1/2″ math for the squares.  That means 4 separate cuts!  With Thangles there are only 2 cuts.  Half the cutting is eliminated.
2. Use the two fabric strips and 2″ Thangles to make 4 half square triangles (HSTs).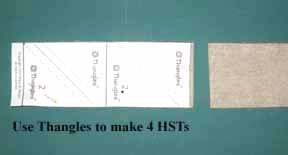 The Thangles are 2 1/2″ square when they are made. They are the same size as the strips they came from.  We call this unfinished size the "RAW" size.  You will still have raw edges because your project is not completely finished.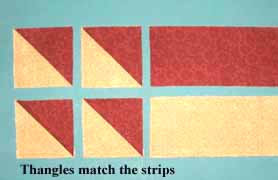 3. Go back to your strips and cut 1 dark square and 4 light squares. These squares are the same size as the Thangles pieces.  In this case, 2 1/2″ square.

4. Layout the shoofly block and sew! The unfinished block will be 6 1/2″. When it is sewn into the quilt and the quilt is finished, it will be 6″ square. (You use a 1/4″ seam allowance for all your seams.)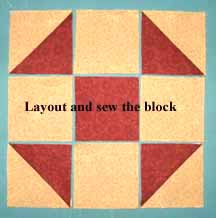 Just a note on finished and unfinished because there is much confusion on this labeling. 
FINISHED is when ALL the sewing is done.  The project is completed. 
UNFINISHED is when you still have raw edges and the project is not done.  I like to call this stage RAW as sounds different and makes it easier to distinguish between the two. 
When you first make HSTs with Thangles, as in Step 2, the pieces are unfinished.  You still need to sew them into the project.   
The Thangles size on the front of the package is the FINISHED size.   You will find the strip size right below that.  It is always 1/2″ larger than the finished size.  Thangles size = Finished size