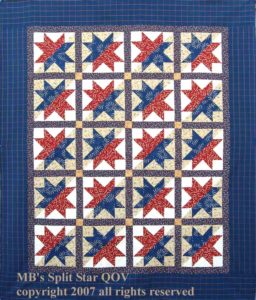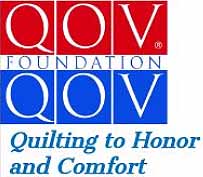 Please help us support our service members by making quilts for the Quilt of Valor Foundation.  QOV Foundation was started by Catherine Roberts in Nov. 2003.  
The mission of the QOV Foundation is to cover ALL combat wounded and injured service members from the War on Terror whether physical or psychological wounds with wartime quilts called Quilts of Valor (QOVS).
15 March 2008  
I made this quilt with the help of my friends.  I assembled block kits and my friends sewed the blocks.   Each kit contained 1 strip of each of the 4 fabrics.  This kit was enough for each person to sew 3 blocks.   My friends graciously sewed the blocks and I assembled the quilt.  
Click here to go to the QOV Foundation website and learn more about making quilts for our service members.  
This pattern is meant to be used to make Quilts of Valor.   If you wish to use this pattern for your our personal use, we ask you to first make one of these tops for the Quilts of Valor Foundation.  If you are unable to do that, please make a donation to the QOV Foundation before you use the pattern for personal use.  Click on this link to do so online or send a check to:
QOV Foundation
PO Box 1003
Seaford DE 19973-1003
Click on the links below to download a PDF of the pattern.   
The quilt finishes about 55″ wide x 66″ long.
Thank you so much for participating in this project.  
MB Hayes
PO Box 2266
Fond du Lac, WI 54936
www.thangles.com
Click here to download the first page of the pattern
Click here to download the second page of the pattern