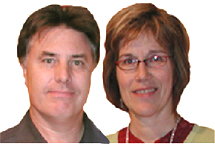 Mary Beth Hayes (MB) and Patrick Mullen are the owners of Thangles. MB started Thangles in 1996 in Poolesville, MD. We've worked together full time at this business since 1997. We are grateful for the opportunity to own our own business in the quilting industry.
We have a deeply shared interest in Science. Both of us have degrees in science and both of us worked for many years in science related fields. MB used to work at the Wisconsin State Crime Lab and also as science teacher. Patrick used to be director of Research and Development for a Biotech firm.
We also share a common interest in the arts. MB graduated from North Central College in Naperville, IL with a double major in art and chemistry, so she has been thinking art and science for a long time. Patrick is an accomplished woodworker and woodturner.
In 2001 we moved from Poolesville, MD to Wisconsin. We are both natives of Wisconsin. Our other great passion is remodeling old buildings. With that move we realized one of our dreams. We remodeled the barn that is the current home of Thangles. The barn is on the farm that is MB's mother's birthplace. You can see pictures of that renovation by clicking here.
Our barn is not open to the public on a regular basis, but from time to time, we hold open house days.
Here is a favorite family picture taken right after we moved back to Fond du Lac. In the picture, you can see MB's mother and father, Stanley and Vallanee Hayes. They are having fun with MB's sister, Martha and her two children, Chloe and Emily.
MB's mother had just been diagnosed with Alzheimer's disease. She passed away peacefully in her home on the farm in January 2007. Stanley stayed on the farm after Val's death and passed away in May 2013.